Akimi Village Trophies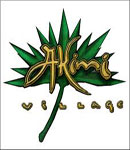 Total Trophies: 13Get swept away to a mysterious, floating island in the sky in Akimi Village, a city-building game from NinjaBee! Help the tiny Akimi build their village and spread light to free their island from the grip of the Gloom's thick shadow.

Trophies:
Good Samaritan
Purify the first set of Akimi.
Radiant
Plant your first radiant tree.
Department of Forestry
Plant 5 radiant trees in one game.
Land Reclamation Project
Remove 1 ton of Debris.
Akimi Liberator
Rescue 40 Akimi in one game.
Philanthropist
Send 300 resources.
Refined
Refine 500 Resources.
Walkabout
The name says it all.
One Man Moving Crew
Keep carrying things around.
Full Set
Have every building and component in one game.
Johnny Appleseed
Plant 10 Radiant Trees in one game.
Grand Dragon Gate
Build the Grand Dragon Gate.
The Old Fashioned Way
Purify the entire island before building the Dragon Gate or Grand Dragon Gate.