Assault Heroes Trophies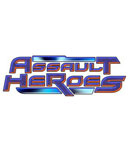 Total Trophies: 12As the only surviving members of an elite Special Forces unit, it is up to you to find the secret underground lab. Assault Heroes offers an arsenal of weapons including devastating flak cannons, flamethrowers and grenades to navigate through the levels.

Trophies:
Exterminator
Defeat the giant spider.
Sharp Shooter
Keep your accuracy higher than 70%.
Unstoppable
Finish a zone without losing a life.
Lair Slayer
Complete all underground zones without using a continue.
Annihilator
Kill more than 85% of the total enemies in a zone.
Small Arms Expert
Finish a zone without using grenades or nukes.
Twin Medal
Finish a zone in Co-op mode.
Speed Freak
Finish a zone in less than 15 minutes.
Peace Maker
Finish a zone killing less than 50% of the enemies.
Tricked Out
Max out all of the vehicle power-ups.
Survivor
Finish a zone killing 60% of the units on foot.
Assault Hero
Complete the game.