Bejeweled 3 Trophies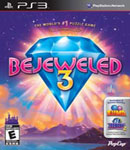 Total Trophies: 12Discover all-new ways to play the world's #1 puzzle game! Find your perfect match with 8 breathtaking game modes that meet all your moods — including Classic, Quest, Lightning and Zen. Enjoy the amazing sights and sounds. Earn flashy achievement badges. Engage in endless gem-matching fun, and soar to dazzling new heights!

Trophies:
Friendly Fire
Detonate a Flame Gem.
Game in Hand
Unlock all 8 game modes in Bejeweled 3.
Skull Crusher
Destroy a skull in Poker mode.
Diamond Miner
Reach a depth of 200m or lower in a Diamond Mine game.
Cold Feat
Get a x5 multiplier in Ice Storm.
Butterfly Guardian
Save 100 butterflies in a Butterflies game.
Elite Gem Wielder
Complete one of the Elite Bejeweled 3 badges.
Lightning Storm
Get a x5 multiplier in a Lightning game.
Supercharged
Detonate 2 Star Gems in one move.
Blazing Speed
Obtain Blazing Speed in a Lightning game.
Relics Revealed
Unlock all 5 relics in Quest mode.
All That Glitters
Complete all non-Elite Bejeweled 3 badges to Gold level or higher.