Blacklight: Tango Down Trophies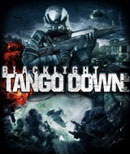 Total Trophies: 12In the near-future, the Blacklight Tango Team has been sent to find recently missing Colonol Klein and his personal Blacklight team in the city of Balik. The country has recently broken out in war after the assassination of the president. The rebel group that had killed the president The Order, is thought to have captured or killed the missing Blacklight team.

Trophies:
n00b
Win 1 quick match! Welcome to the winning team!
Opportunist
Kill 10 opponents in a public match while they are affected by a Digi Grenade.
Tour of the City
Achieve a win in any game mode on every map in quick match games!
Field Officer
Reach the rank of Sergeant.
Commisioned Officer
Reach the rank of Second Lieutenant.
Command Officer
Reach the rank of Major.
Hack the Gibson
Hack every control point on every multiplayer map in quick match games.
DodgeThis
Headshot 25 opponents while they are using HRV in quick match games.
Way of the Gun
Kill an opponent with their own weapon in a quick match. Ouch!
Flatten and Reinstall
Kill 25 opponents in quick match games while they are EMPed!
General
Achieve the rank of Brigadier General. Hats off to you!
Gearhead
Unlock all gear and weapons!