Buzz Junior: Monster Rumble Trophies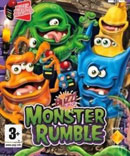 Total Trophies: 11Play as one of four mischievous monsters as you explore the Monster Mansion causing chaos. These out of control monsters have been created by a mad professor and have escaped from the lab. All the monsters wish to be top dog but there is only room for one at the top in the Monster Mansion. The monsters must therefore take part in a series of games to determine the winner.

Trophies:
Mummy Madness
Win a game of All Wrapped Up
Naked Mummy
Completely Unwrap a mummy within the time limit in All Wrapped Up
Monster Pirate
Knock every other computer controlled monster into the water in Treasure Hunt
Dry as a Whistle
Win a agme of Treasure Hunt without getting wet
Wonky Donkey
Hit every Zombie Donkey and still win a game of Boo
Crackshot
Hit every Zombie in Boo! including the Zombie Master. But make sure you don't hit the Donkeys!
Play it Safe
Don't loose any points in a game of Ghoulish Golf
Gifted Golfer
Get 20 hole-in-ones during a game of Ghoulish Golf
Last Monster Sitting
Win a round of Musical Chairs when only one chair remains
Musical Monster
Win every round in a game of Musical Chairs
An Amazing Monster
win a stanard single player game with Monsters set to hard