Castle Crashers Trophies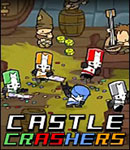 Total Trophies: 13This four player RPG adventure will let you hack, slash, and smash your way to victory. Featuring hand-drawn characters, Castle Crashers delivers unique hi-res illustrated visuals and intense gameplay action. Play with up to three friends and discover mind-boggling magic and mystery in the amazing world created just for you!

Trophies:
Traditional
Complete the game using any character.
The Traitor
Defeat any boss by playing one of his own minions.
Deer Trainer
Navigate the Abandoned Mill without hitting any obstacles.
Maximum Firepower
Using a catapult, fling a knight with maximum power.
Animal Handler
Collect all the animal orbs.
Melee is Best
Defeat any boss without using magic.
Treasure Hunter
Find and dig up 10 buried items.
Medic
In a 4 player game, resuscitate each of your fallen comrades at least once.
Social Networker
Reach 20 hits in a single Volleyball rally.
Kay Eye Ess Ess
Collect all 4 Princesses' kisses in a multiplayer game.
Conscientious Objector
Complete the Home Castle through the Barbarian Boss areas without attacking any foes.
Arena Master
Win 40 Ranked Arena matches
You Are Insane
Complete Insane mode and become the ultimate Castle Crasher.