Comix Zone Trophies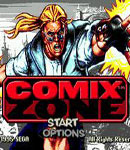 Total Trophies: 12Sketch Turner is an artist in New York City. One day while Sketch is drawing, there is a huge thunderstorm and a bolt of lightning hits Sketch's image, bringing it to life. That image is Mortus, a megalomaniac mutant who wants to become real and rule the earth. Mortus magically transports Sketch into the pages of his comic book so that he can end his creator's life and become real.

Trophies:
3rd Grade
Use a paper airplane.
Buddha Says
Complete Episode 2.
Unknown Territory
Finish the first page.
Points I
Score 10,000 points.
Orange Bull
Use the Iced Tea to restore your health.
Boo-Ya!
Use the dynamite.
Rats!
Rescue and pick up Roadkill.
Complete The Game
Rescue Alissa and complete the game.
Points III
Score 50,000 points.
Points II
Score 30,000 points.
Accelerate Your Hero
Complete Episode 3.
Choice is Good
Receive both endings.