DeathSpank: The Baconing Trophies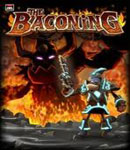 Total Trophies: 12A stand-alone gaming experience for fans of DeathSpank, The Baconing is about the mythology of the Bacon Fires. Players will be able to meet some old friends and new acquaintances in this new high profile comical adventure.

Trophies:
Tea, Earl Grey, hot.
Program a Replicator.
Bashing Success
Shield Bash 1000 Times.
Blade Ruiner
Kill 100 Cyborques.
Who Wants to Live Forever?
Become a God.
Stay On Target.
Reach Level 20.
Are you not entertained?
Become the Tournament Champion.
Take a #3
Find all 41 Outhouses.
Never tell me the odds
Perform a 10x attack chain.
Reflectology
Reflect 100 Ranged Attacks.
Game Over Man!
Beat the game on any difficulty.
Predator
Kill 2000 Enemies.
Death Blossom
Beat the game on Insane difficulty.