Diner Dash Trophies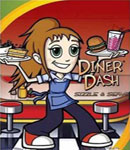 Total Trophies: 11Diner Dash blends the best in fast paced-action puzzles with a build-your-restaurant-empire theme that encourages players to serve their way from a two-table diner to the top of the restaurant ladder – starting with a run-of-the-mill greasy spoon and ending in a dream restaurant.

Trophies:
Endless, Schmendless
Last 10 minutes in single player Endless Mode on any difficulty
There's always tomorrow Flo
Lose all your stars in Endless Mode on any difficulty
Now we're cookin'!
Earn Five Stars over the course of Flo's career (any difficulty)
That's what I call an upgrade!
Unlock the full version of Diner Dash®
That's what I call team work!
Win 10 Team Dash Games!
There's no time like the present
Win 10 Online Time Wars Games!
Here's a tip for you…
Win 10 Online Tip Wars Games!
Will Flo please stand up?!
Win 10 1v1 Head to Head Games!
"I ate the whole thing!"
Complete all four restaurants in Flo's career
Workin' nine to five…
Win 20 Team Dash Games with at least three other teams
???
Hidden Trophy