Dungeon Twister Trophies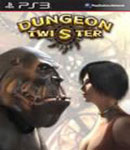 Total Trophies: 12In Dungeon Twister, the player controls a group of 8 adventurers. But not alone…2 teams have been enclosed in the sinister dungeon. Only the winning team will be spared. To win, the player must either escape the dungeon or slay his opponents.

Trophies:
First Twist
Rotate a room for the first time.
Novice strategist
Win mission 9 against the computer.
Scout
Reveal 3 rooms in a row with 3 action points.
Get ready for PlayStation®Network!
Finish the Training mode.
Executor
Eliminate 2 enemies with only one action point.
He had a thick skin!
Eliminate your opponent's Troll.
Flee!
Make at least 5 characters get out during the same game.
Don't forget to eat…
Finish at least 30 multiplayer games on PlayStation®Network.
Pillage!
Leave with 2 Treasures during the same turn.
Sniper
Throw a Fireball at a distance of more than 8 squares from your target.
Total respect
Collect more than 5000 points in Challenge mode.
You are the new Arch-Mage!
Win a difficulty 12 game in Challenge mode.