Earthworm Jim HD Trophies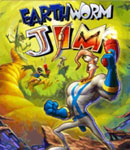 Total Trophies: 12The world's grooviest earthworm is blasting back into action in this reborn classic, now in HD! Rediscover the cult classic adventure with all the original levels plus new, never-before-seen locations, and brand new enemies. Team up with friends and combine your wormy powers in 4-player co-op locally or online.

Trophies:
Bin collector
Kill Billy the Bin in New Junk City
Atom Raider
Collect 100 atoms (without exiting the game)
Atom Jefferson
Collect 500 atoms (without exiting the game)
Canadian stunt
Use the whip to swing from any moose head in Single Player mode
Banker Whipper
Whip a banker twice in What The Heck?
Space Collector
Collect more than 100 Blue Orbs (without exiting the game)
Snot a Trophy
Launch the cow in New Junk City
Groovy Leader
Be 'No. 1' in each PlayStation Network multiplayer level
Super Space Collector
Collect more than 300 Blue Orbs (without exiting the game)
World Partnership
Complete all the Playstation Network multiplayer game levels
Superhero!
Get through Single Player mode in Original difficulty in one sitting in under 50 minutes
Earthworm Never Dies
Clear Single Player mode in Original difficulty in one sitting without losing a life