Frogger: Hyper Arcade Edition Trophies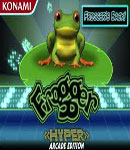 Total Trophies: 12Frogger's coin-op thrills are back and better than ever in Frogger: Hyper Arcade Edition! The arcade excitement of Frogger returns in time for its 30th anniversary celebrations with updates that are sure to delight fans old and new.

Trophies:
Greasy Joystick
Obtained a Classic Frogger score of over 100,000!
Around The World
Every game mode played!
Tongue Tiled!
Won a single player Tile Capture match!
Twin Stick
Used both Hyper and Retro controls for Classic!
Go! Frog! Go!
Fly power up used only against CPU!
The Devoted Artist!
All the Paint patterns completed!
Nostalgia
Got a Frog Home in Classic Frogger!
Highway Crossing Frog
Completed all 5 difficulty levels of Classic Frogger!
Frogger In Love
Rescued a Lady Frog in Classic!
Twin Frogs
Got a Twin Frog pair Home!
Rumble in the Pond!
Won a single player Battle Royale!
Hidden Trophies
Challenged
Every Challenge completed!