Ghostbusters: Sanctum of Slime Trophies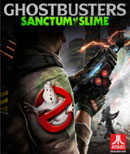 Total Trophies: 12Ghostbusters: Sanctum of Slime is a four player, ghost-busting adventure that will take players on a brand new paranormal experience. Gamers will suit up with their proton packs and assume the role of a rookie hired by the Ghostbusters to save New York City from a disaster of ghoulish proportions.

Trophies:
ROOKIES
Finish the first level.
HERO
Revive any teammate 20 times.
STORY TELLER
Watch each comic without skipping.
TEAM OF FOUR
Play with each character.
ROCKSTAR
Destroy all the expensive LCD televisions in the hotel.
FULL HOUSE
Finish an online level with the help of 3 other players.
RUSH HOURS REVENGE
Defeat the Subway Smasher.
BUSTIN' MAKES ME FEEL GOOD
Unlock every level and defeat the final boss.
NICE THINKING, RAY
Find all the collectibles hidden inside objects in each level.
SPEED DEMON
Get 100% score with the trap.
COLORBLIND
Kill a Slime Abomination with the wrong weapon.
DON'T TOUCH THE CAR
Finish a chase level with at least 75% of the Ecto-shield up.