Groovin' Blocks Trophies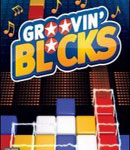 Total Trophies: 11It's time to get your PlayStation Network groove on! Groovin' Blocks is the ultimate combination of challenging puzzle game set to irresistible musical beats. Match three or more gems and watch them disappear; explode gems to the beat of the music to double your multipliers and increase your score! Groove with your friends in local co-op or head-to-head modes. Groovin' Blocks features three skill levels from casual mode to fiendish hard mode.

Trophies:
Gettin' the rhythm
Obtain 1 star from any song.
Help is on the way!
Unlock two bonuses.
Easy Street
Obtain 32 casual stars.
F
eelin' complete
Complete a song set.
Sextuple me
Get a 6x multiplier.
Nothing beats experience
Obtain 32 experienced stars.
It's a hard life
Obtain 34 hard stars.
Weapon of choice
Unlock all bonus types.
???
Hidden Trophy
???
Hidden Trophy
???
Hidden Trophy