Hustle Kings Trophies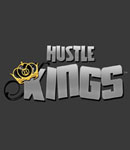 Total Trophies: 17Rack 'em up and hustle your way to the top of the leaderboards with Hustle Kings. Set in contemporary and stylish pool bars, the Hustle Kings game allows players to hone in on their billiards skills in one of the most realistic looking billiards settings ever realized.

Trophies:
Online Hustler
Hustle a player online.
Trick Shot Wizard
Complete all trick shots.
License to Hustle
Complete training mode.
Career Victory
Win a career mode game.
Skill Shot!
Swerve or Jump to pot a ball.
Career Complete
Complete career mode.
Luck is an Art
Beat someone else who has this trophy.
Speed Freak
8-Ball clearance in under 40 seconds.
Online King
Win 100 online games.
Skill Player!
Complete jump, swerve, bank and plant pots.
Hustle King!
Earn 100 million HKC hustling online
Snooker Pack DLC Trophies
Maximum Break
Get a 147 maximum break in snooker.
Century Break
Make a break of 100 or more in snooker.
Snooker Champion
Win the snooker tournament.
Beat the Fish
Beat someone at snooker who already has this trophy.
Snooker King
Win 10 online snooker matches.
Snooker Loopy
Snooker your opponent 5 times in a single frame of snooker.