Journey Trophies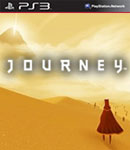 Total Trophies: 14The pioneers that brought you the award-winning PlayStation Network titles flOw & Flower are back with another title that challenges traditional gaming conventions. With Journey, thatgamecompany (TGC) continues its tradition of delivering simple gameplay and accessible controls in a rich interactive environment that invites players to explore and experience emotional chords that are still uncommon in videogames.

Trophies:
Threshold
Cross the broken bridge without completely rebuilding it.
Mirage
Find the hidden desert flower.
Explore
Discover all cloth creatures in the desert.
Adventure
Pass through 15 gates while surfing through the sunken city.
Trials
Sneak through the underground passage without tearing your scarf.
Ancestors
Find a mysterious creature hidden in the temple.
History
Uncover all 10 ancient glyphs.
Crossing
Reach the summit with a companion and return to the beginning.
Rebirth
Finish the game and return to the beginning.
Companion
Finish the game with the same partner for the majority of the journey and return to the beginning.
Reflection
Sit and meditate with another player for more than 20 seconds.
Wonder
Meet 10 or more unique travelers.
Return
Start the journey again after a week long break.
Transcendence
Collect all unique glowing symbols across one or more journeys.