Just Dance Kids 2 Trophies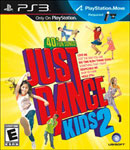 Total Trophies: 12The coolest dance experience for kids is back — Just Dance Kids 2, now for play with PlayStation Move! Featuring 40 fun and crazy dance routines to kids favorite songs, including hits from today's most popular artists, TV shows and movies. Just Dance Kids 2 gets kids of all ages up and dancing with colorful graphics, super-fun dance moves, and kid-friendly gameplay!

Trophies:
The First Dance
Danced through Regular mode!
Let's Dance Together!
Danced through Team High Score with 2 players!
Strike a Pose
Danced through Freeze & Shake!
The Modern Mixtape
Created 'Your Playlist' in Playlist mode!
First Playlist Completed!
Danced through 1 preset Playlist in Playlist mode!
Mixing Things Up
Danced through 1 Medley!
Are You Forming a Dance Crew?
Danced through songs in Team High Score 50 times in multiplayer!
You're a Poser
Danced through songs in Freeze & Shake 50 times!
Medley Master
Danced through 50 Medleys (outside Non-Stop Shuffle)!
Movin' on up!
Danced through songs in Regular mode 50 times!
Impressive Score!
Earned 12,000 or more points in any song in Regular mode!
Just Dance Virtuoso
Earned at least 12,000 points in all songs in Regular mode!