Kick-Ass Trophies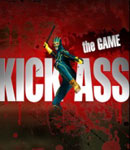 Total Trophies: 13Following up on the action-packed movie, Kick-Ass is a superhero action game where players are put to the test as they take on the role of any of three super heroes — Kick-Ass, Hit Girl, or Big Daddy. The game is a fully 3D action fighting game set in the third-person perspective, and features multiple environments within New York City.

Trophies:
I have a friend
Complete a level in Co-op
Collector
Collect all 8 hidden comic books
Big Daddy Expert
With Big Daddy, use the flashbang to stun 6 enemies at once.
Kick-Ass Expert
With Kick-Ass, Kill 10 enemies during one rage activation.
Hit Girl Expert
With Hit Girl, Kill 2 enemies in one wall run attack.
I'm not Invisible
Set off the security camera 5 times in one level.
Completionist
Level up any one character to level 50.
OCD
Destroy 1000 Crates
Bazooka Expert
Complete the game in Normal Difficulty
Slaughter Master
Kill 1000 enemies
Too Easy
Complete the game in Extreme Mode
???
Hidden Trophy
???
Hidden Trophy