Monkey Island 2: LeChuck's Revenge – Special Edition Trophies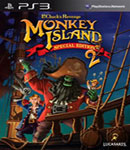 Total Trophies: 12Having defeated the evil ghost pirate LeChuck in his first adventure, pirate extraordinaire Guybrush Threepwood sets his sights on the treasure of Big Whoop. Legendary treasures however, come with legendary challenges and Guybrush will have to use his wits and humor to prove himself the greatest pirate in the Caribbean.

Trophies:
Speed Demon
Complete the game in under three hours
Free Thinker
Beat the game using fewer than 10 hints
Old School
Switch to classic mode at least once
Five Minutes Later…
Allow Guybrush to die.
Turning the Lights Out
Complete the game using object highlighting five times or less.
Helium Inhaler
Make Guybrush inhale some helium
Call 911
Call the LucasArts helpdesk when walking through the jungle on Dinky Island
Complete part one
Complete part one: The Largo Embargo
Complete part two
Complete part two: Four Map Pieces
Complete part three
Complete part three: LeChuck's Fortress
Monkey Master
Beat the game without using a hint
Complete part four
Complete part four: Dinky Island