PixelJunk SideScroller Trophies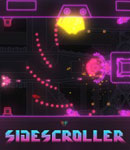 Total Trophies: 15Based on the unlockable stage from PixelJunk Shooter 2, PixelJunk Sidescroller is a complex and dynamic fluid simulation system, which fills the game world with flowing liquids and hazardous gases, while putting a new spin on arcade shooters. Blast holes in walls or use your ship itself to drill past scorching hot magma. The fluids react in real-time to the player's actions and to other liquids, creating unique and exciting situations with every play.

Trophies:
A Close Encounter of the Scrolling Kind
Complete your first Sector.
Sector Perfecter
Complete all Sectors in one Stage.
S Is for SideScroller
Complete all three Stages.
So Long, and Thanks for All the Bullets
Defeat the final Boss.
Mostly Harmful
Complete any Sector on the Hard difficulty setting.
Great, kid. Don't get cocky.
Complete any Sector on the Brutal difficulty setting.
Triple Crowner
Get all three hidden Crowns in any Sector.
You Make Me Wish I Had Three Hands
Use each weapon one time.
Spin-a-delic
Defeat 50 enemies using the Charge Attack.
You Are the Pris to My Roy
Complete any Sector by playing with a friend in co-op mode.
Combolicious
String together a Combo of 100 points or more.
Pedal to the Medal
Receive the highest ranking Medal on any Sector.
Q-Beams Glitter in the Dark
Defeat 10 enemies or more using one Laser shot.
Ender's Game
Complete any Sector without getting hit by a single shot.
Spin Long and Prosper
Complete any Sector without firing a single shot. (Hint: Use the Charge Attack!)