Puzzle Dimension Trophies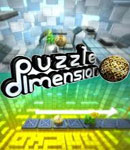 Total Trophies: 9Puzzle Dimension is a puzzle game where the player exercises the spatial thinking. The player is invited to 100 unique labyrinth-like structures which become more and more challenging. In Puzzle Dimension gravity is depending on your movements, up and down are relative terms. Classic game play elements such as fire, ice, spikes, buttons and hidden sections give the player a diverse range of problems and satisfying eureka moments.

Trophies:
Supermultiplier
Get a multiplier of 16.
Übermultiplier
Get a multiplier of 32.
Replay
Score over 190 on the first puzzle in Broken Ice.
Score more 1
Score over 500 in a puzzle.
Total score: Bronze
Get a total score of 10,000.
Score more 2
Score over 1,000 in a puzzle.
Total score: Silver
Get a total score of 25,000.
Unpixelat0r
Unpixelate all blocks in the game.
Total score: Gold
Get a total score of 50,000.