Real Steel Trophies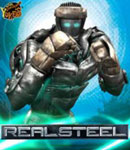 Total Trophies: 12In Real Steel, the player assumes the role of an owner of a fighting robot, and must battle against many different rival robots in an attempt to become champion of several levels of fighting tiers. Players earn in-game money by winning matches and, using this money, must periodically improve their robot, making it stronger and more fit to compete in the higher level match tiers.

Trophies:
Underworld Champion
Complete all UNDERWORLD STAGES in MATCH MODE.
WRB Champion
Complete all WRB STAGES in MATCH MODE.
Robot Engineer
Customize and save a robot to a garage.
First Win
Win 1 local fight.
First Online Win
Win 1 online fight.
10 Online Wins
Win 10 ONLINE RANKED MATCHES.
50 Online Wins
Win 50 ONLINE RANKED MATCHES.
100 Online Wins
Win 100 ONLINE RANKED MATCHES.
Big Money
Win an ONLINE RANKED MATCH against a robot with TBR x2 or higher than you to earn a huge prize.
Pacemaker
Win a match without completely depleting your power a single time.
Arm Destroyer
Beat an opponent robot by destroying both of its arms.
1 Round KO
Win a match in a single round.