Resident Evil: The Darkside Chronicles Trophies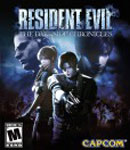 Total Trophies: 12Arm yourself against the horrors of the city in this sequel to the gun shooting game Umbrella Chronicles. Darkside Chronicles takes place in Resident Evil 2's Racoon City. It's September 29, 1998, and the city has turned to hell due to the effects of the T-virus. Players take control of Claire Redfield and Leon S. Kennedy to deal with the undead.

Trophies:
Angelic Voice
Hear the singing voice of a little girl.
The Little Fugitive
Save the little girl.
What Research Holds In Store
Bring peace to the sad researcher.
Ninja Skills
Slip through the trap without a scratch.
The Mad Queen
Take out the queen ant.
Bye-Bye, Mommy
Recover a mother's instinct.
Forbidden Power
Witness the end of one suffocated by power.
Other Side of the Coin
Capture a glimpse into the changing mind of a comrade.
Tofu Smack Down!
Clear the secret stage.
Head Shot Freak
Land at least 5 headshots in a row.
Professional
Clear all chapters on the hardest difficulty with an S rank.
Archive Collector
Collect all archives.