Resident Evil: The Umbrella Chronicles Trophies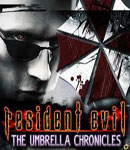 Total Trophies: 12Umbrella Chronicles takes place from the first person as your characters move through a fully 3D mansion. This action/shooter hybrid reveals the back story behind the fall of the Umbrella Corporation by exploring locations from past Resident Evil 0, 1, 2 and 3 as well as new never-before-seen locations, such as Umbrella's stronghold.

Trophies:
Man in 'Cuffs
Meet a man in handcuffs.
Thirsty For Blood
Defeat the blood thirsty monster.
Farewell to a Friend
Put a friend out of their misery.
Tyrant Disposal
Take out the all powerful Tyrant.
Big Guy Wants to Play
Turn the tables on the Pursuer.
The Fruits of Ambition
Draw the curtain on Sergei's ambition.
Taking One for the Team
Witness a comrade's sacrifice.
The Final Curtain
Put an end to the secret organization.
Zombie Smack Down!
Clear the special stage.
Archive Collector
Collect all archives.
Love Those Weapons
Find the treasure trove of weapons.
Master of Destruction
Get the all powerful weapon.