Revenge of the Wounded Dragons Trophies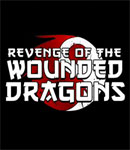 Total Trophies: 12In this dual-mission drama where you are the hero, your little sister was kidnapped by the local mafia Boss, while your grandfather has been killed by the same ruffian! But all these years, you have trained in the ancient art of Kung-Fu — little did these thugs know that they were messing with a lethal weapon! Players can hammer through this side-scrolling brawler in a Story Mode that lets you fight as a single player or as a two-player cooperative team.

Trophies:
Pure Dragon
Beat a whole level without picking up weapons or objects.
Ultimate Revenge
Kill Fat Lu with a shotgun… at point blank.
Finish Him
Use all 8 finishing moves in one level.
No 'I' In Team
Use all of the coop moves.
Nom Nom Nom
Feed an enemy to a crocodile.
Home Run
Knock one rider off his scooter with a bat.
This Is My Boomstick
Kill 6 enemies with the same shotgun.
Golden Smile
Collect 32 golden teeth.
All That Glitters…
Collect every golden statue.
Kung Fu Legend
Get a x20 multiplier.
Marco Polo
Find every secret area.
Roll Credits
Beat the game.