Sonic The Hedgehog 4 Trophies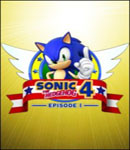 Total Trophies: 24Available exclusively via download, Sonic the Hedgehog 4 Episode I brings back the addictive side scrolling action that Sonic fans love in an all-new 2D adventure. Played from the traditional side-scrolling perspective, the game offers classic Sonic moves that fans love including Spin Dash and Rolling Attack and will also feature Homing Attack, all in stunning CG rendered environments.

Episode 1 Trophies:
The Story Begins
Clear SPLASH HILL ZONE, ACT 1.
Crush Dr. Eggman
Defeat a boss for the first time.
The First Chaos Emerald
Acquire a Chaos Emerald.
Enemy Hunter
Defeat 1,000 enemies.
Golden Flash
Clear all Acts as Super Sonic.
All Stages Cleared!
Defeat the final boss and view the ending.
Contender
Upload your recorded scores and clear times for all stages.
Ring Collector
Collect all the Rings in 'Special Stage 1' and Clear the stage.
Immortal
Build up 99 or more extra lives.
Super Sonic Genesis
Acquire all seven Chaos Emeralds.
Speed's My Game
Clear SPLASH HILL ZONE ACT 1 in less than a minute.
Untouchable
Clear the E.G.G. STATION ZONE without taking any damage.
Episode 2 Trophies:
The Adventure Begins
Clear SYLVANIA CASTLE ZONE, Act 1.
Rolling Combo!
Activate the Rolling Combo with Sonic and Tails.
Metal Sonic Falls
Defeat Metal Sonic in SKY FORTRESS ZONE, Act 1.
A Golden Wave
Defeat all bosses as Super Sonic.
All Stages Cleared!
Defeat the final foe and watch the ending.
Tag Partner
Upload a Multiplayer score or time.
I Love Tails
Play as Tails 50 times.
Ring Collector
Beat Special Stage 1 after collecting every Ring.
Endurance Race
Clear all stages without returning to the World Map.
All Chaos Emeralds Found!
Collect all seven Chaos Emeralds.
Proof of Speed
Clear SYLVANIA CASTLE ZONE, Act 1 in one minute or less.
All Red Star Rings Found!
Defeat the final foe after collecting every Red Star Ring.