Sonic Adventure Trophies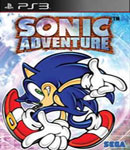 Total Trophies: 15The hedgehog with an attitude makes his triumphant return to the world of videogames in Sonic Adventure. Sonic has been catapulted into the third dimension with style. Racing at supersonic speeds through nearly 50 gorgeous, fully 3D levels, Sonic will have to adapt to the new challenges and dangers invented by the evil Dr. Robotnik.

Trophies:
Miles 'Tails' Prower
Become friends with Tails.
Knuckles the Echidna
Become friends with Knuckles.
Amy Rose
Become friends with Amy.
E-102 'y'
Become friends with E-102.
Big the Cat
Become friends with Big.
Sonic the Hedgehog
Clear the Sonic story.
Super Sonic
Clear all characters stories.
The Fastest & Strongest
Get Level A on all the Action Stages.
Sub Game Master
Get all Emblems of the Sub Games.
Chao's Best Friend
Get all Emblems of the Chao Race.
The Adventurer
Get all Emblems in the Adventure Field.
The Perfect Adventurer
Get 130 Emblems.
Sonic Adventure DX DLC Trophies:
Metal Sonic
Get all 130 Emblems by playing Sonic Adventure DX.
Metal Sonic Master
Get Level A on all the Action Stages by using Metal Sonic.
Mission All Accomplished
Clear all 60 missions.