Space Ace Trophies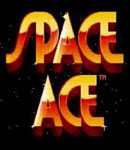 Total Trophies: 8Space Ace, the followup to Don Bluth's legendary Dragon's Lair, can now be enjoyed from the comfort of your couch. This fully arcade authentic version includes all of the original scenes you've come to enjoy, and even an all-new global high scores list so you can show how well you handle Ace's laser gun. Other bonuses include a full watch feature to sit back and enjoy Don Bluth's stunning animation.

Trophies:
Regain Your Manhood
Energize in the First scene
Just Dex
Complete the game in Cadel mode, with Infinite Lives
Oh Captain! My Captain!
Complete the game in Captain mode, in 5 Lives mode.
Call Me Ace
Complete the game in Ace mode, in 5 Lives mode
Infantilized
Complete the game without Energizing in all but the final level
Go Go Ace!
Complete the game Energizing in all scenes – (Ace mode, with 5 Lives)
Borf Hunter
Complete the game in Ace mode, with no Move Guide, in 3 Lives mode
Hidden Trophies:
???
Hidden Trophy