Spare Parts Trophies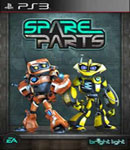 Total Trophies: 13In this online action adventure, players join courageous robots Mar-T and Chip as they find themselves dumped with the trash on a strange planet. Working together in co-op mode, the mechanical duo must find a way to repair their ship and escape the planet before nefarious Lord Krung can dispatch his henchmen to destroy them.

Trophies:
Doing My Part
First Action Part collected
Tutorial'd
Tutorial finished
Jungle Master
Jungle Approach finished
Cave In
Monkey Caves finished
The sky is a new shade of doom
Vista Cliffs finished
Crashdown
Ancient Temple finished
All Systems Go
All Action Parts found
Legendary
Game completed!
Blingbot
1,000,000 credits collected
Shop-o-bot
Present for the purchase of all unlockable concept art
Better Stronger Faster
Present at the purchase of all Action part upgrades
Ship's Engineer
All 100 Ship Parts collected
Platinum Trophy
Earn all other trophies