Switchball Trophies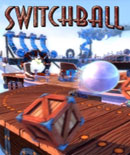 Total Trophies: 12Switchball is a puzzle game set in a fully-realized 3D world. Control an ever-changing ball along a narrow winding course suspended in midair. Solve your way through challenging levels jam-packed with obstacles, traps and mazes. Morph the marble ball with metal, electric and lighter-than-air properties to more easily get through each area.

Trophies:
Marbleball Badge
Complete Sky World level 3.
Metalball Badge
Complete Ice World.
Powerball Badge
Complete Cave World.
Airball Badge
Complete Lava World.
Speedroller Rookie
Collect 1 silver medal.
Speedroller Trainee
Collect 12 silver medals.
Speedroller Expert
Collect 24 silver medals.
Speedroller Master
Collect a gold medal on all levels.
Speedball Medal
Win 5 matched multiplayer races.
Friendball Medal
Complete all cooperative levels.
Honor Medal
Win 10 matched multiplayer race.
Spyglass
Find 3 hidden paths.