Swords & Soldiers Trophies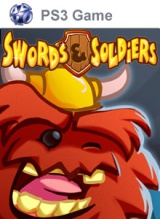 Total Trophies: 20Designed by the innovative game designers at Ronimo Games, Swords & Soldiers is a sidescrolling real time strategy game in which three distinct factions battle for the powers of the gods. The game will feature a single player campaign and a competitive splitscreen multiplayer mode as well as several other game modes.

Trophies:
RickRolled
Destroy the enemy castle with a boulder.
Cooking by the Book
Complete the Viking campaign.
V for Veggies
Complete the Aztec campaign.
I'm not kung, Fool!
Complete the Chinese campaign.
Uncontrolled Demolition
Destroy a tower under construction with Rage.
Bull in a China shop
Cast a boulder that does not damage a single unit.
Son of Norris
Kill 36 units with a single unit.
Techno Viking Dances Away
Reach the maximum distance in a Berserker Run game.
At First I Was Afraid
Survive over 30 minutes in a Survival game.
King of the Stone Age
Kill all Vikings in a Boulder Mode game without killing any of your own.
Lacking Balls
Complete Aztec Campaign level 8 without using a Boulder.
Fourtification
Complete Viking Campaign level 7 with all Towers intact.
Pity the Fool!
Survive Viking Campaign level 10 without the help of Mr. Thor.
Where are the Kangaroos?
Complete Viking Campaign level 4 by destroying the enemy base.
Fort Knox'd
Prevent the Giant in Aztec Campaign level 2 from reaching the Goldmine.
Keep Your Lousy Army
Complete Aztec Campaign level 10 without taking control of the Viking army.
Planet of the Ninja Apes
Complete Chinese Campaign level 4 without a single Ninja death.
Blotting out the sun
Complete Chinese Campaign level 7 wth 17 or more Rocketeers alive.
Lost Vikings
Complete Chinese Campaign level 8 without killing a single Berserker.
Social Viking
Play 10 matches online.