The House of the Dead III Trophies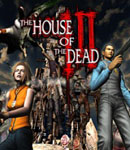 Total Trophies: 12Defy the undead with shotgun in hand as you explore a post-apocalyptic wasteland of unrelenting terror in The House of the Dead III. Fans of the series will thrill to an abundance of 3D gore, time-sensitive gameplay, and a wide variety of branching paths. Gamers take out wave after wave of horrific zombies as they travel different routes and advance the story line, uncovering new secrets and hidden areas along the way.

Trophies:
SPECIAL AGENT
Rated as "SPECIAL AGENT" in Final Result.
FATE
Clear all 4 endings.
TIME ATTACKER
Clear Time Attack Mode.
RESCUE EXPERT
Complete all RESCUE Scenes.
REMINISCENCE
Clear CHAPTER 0.
CHASING SHADOWS
Clear CHAPTER 1.
BEWILDERMENT
Clear CHAPTER 2.
SENSORY CHAOS
Clear CHAPTER 3.
ULTIMATE CHALLENGE
Clear CHAPTER 4.
WHEEL OF FATE
Clear CHAPTER 5.
MECHA ZOMBIE
Destroy a Mecha Zombie.
TWIN SHOT!
Complete a "TWIN SHOT".