The Secret of Monkey Island: Special Edition Trophies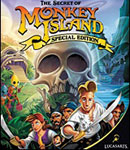 Total Trophies: 12The Secret of Monkey Island: Special Edition is a completely re-imagined version of the first game in the series that adds updated high definition graphics, a re-mastered musical score, and full voiceover.

Trophies:
Recordkeeper
Collect all of the notes and memos on Monkey Island™.
Marooned Everyone
Use one save slot to play both endings.
Human Cannonball
Finish the entire game in under 3 hours.
Determined
Don't use any hints to finish the game.
Old School
Switch to classic mode at least once.
Ten Minutes Later…
Have Guybrush drown.
Escape Artist
Escape from the Monkey Island™ Cannibals' hut 5 times.
The Three Trials
Complete Part One: The Three Trials.
The Journey
Complete Part Two: The Journey
Under Monkey Island
Complete Part Three: Under Monkey Island.
Sharp Tongue
Learn all of the insults from the pirates.
Guybrush Kicks Butt
Complete Last Part: Guybrush Kicks Butt.