Top Gun Trophies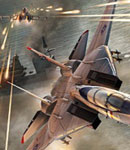 Total Trophies: 12In Top Gun, players will enroll in the Top Gun Academy as Maverick with their Radio Information Officer Goose to go up against the best for Top Gun honors. Following graduation, players will fly into the danger zone with fellow US Navy pilots over the Indian Ocean, where they will shoot down enemy fighter jets, defend and attack bases and engage in large-scale dogfight battles.

Trophies:
I feel the need…
Awarded after 3 afterburner boosts.
Gutsiest move I ever saw…
First plane locked onto with missiles when in CFI and then successfully killed.
Jester's Dead
Jester is shot down at any point by either you or your wingman.
Close But No Cigar
Mission 4 (1st playthrough – Viper wins).
Top Gun
Mission 4 (2nd playthrough – Player wins)
Target Rich Environment
99 kills in Multiplayer (with Missiles or Guns).
Goosed
Rewarded for more than 10 gratuitous deaths in a single multiplayer match.
You can be my wingman anytime…
Complete all the Indian Ocean missions.
No Points For Second Place
Be the first to get the star in a multiplayer match, and hold on to it until the bitter end.
The Pattern is Full
Complete all of Prologue, Top Gun Academy and Indian Ocean with all planes (any difficulty).