Worms Crazy Golf Trophies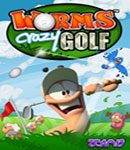 Total Trophies: 20Worms Golf is an arcade sports/action game. Instead of a golf ball, the Worms use live grenades to hit around the golf course, and instead of a normal flag at the hole, the Worms aim for an enemy Worm tied to a pole! Sink a shot, and no more Worm.

Trophies:
Feel The Power
Overdrive a shot.
In a Spin
Use spin control whilst the ball is in flight.
Retail Therapy
Purchase an item from the customisation menu.
First Round
Complete a hole.
Pure Skill
Complete a challenge.
Social Golfer
Complete a hot-seat multiplayer game.
Let's See The Goods
Collect 5 Crates.
Bat's Your Lot
Damage 3 bats with one shot.
Getting The Hang Of It.
Complete a hole within the course par score or better.
You Shoot You Score
Achieve a skill score objective on one of the holes.
No Task Too Great
Achieve all the objectives on one hole.
Rule Britannia
Complete the Britannia course.
The Jolly Roger
Complete the Pirate Cavern course.
Dead Good
Complete the Graveyard course.
Hidden Trophies:
Show Me The Money
Collect 20 coins on one hole.
Tweet Tweet
Get A Birdie.
Where's The Prey?
Get an Eagle.
That's A Wing Span
Get an Albatross.
Fluke or Skill?
Get a hole in one.
True Champion
Complete every objective on all Britannia, Pirate Cavern and Graveyard holes.