Ape Escape Trophies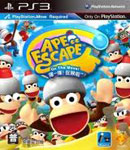 Total Trophies: 12Designed exclusively for PlayStation Move, Ape Escape offers fun and accessible gameplay for players of all ages. Get ready to dive into 15 new levels and watch your PlayStation Move controller transform into an assortment of gadgets while you scoop, swat, and target monkeys in pursuit of Specter, the leader of the monkey invasion.

Trophies:
Banana Love Letter
Got back at least 100 bananas.
Monkeys' Regret
Captured at least 300 monkeys.
Net Master
Pulled off a 40 combo.
World Ape Explorer
Viewed the Monkeypedia.
Mumbler
Used the 'Record' function.
Rags to Riches
Earned your first gold medal.
Catch Rookie
Captured your first monkey.
Gold Collector
Earned at least 10 gold medals.
Specter's Prize
Beat the game once.
Crusher
Defeated at least 600 enemies.
I See All
Captured all monkeys.
Catch Master
Reached 100% completion.