Atelier Totori: The Adventurer of Arland Trophies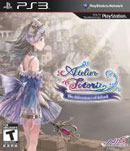 Total Trophies: 29Adding another chapter to the series of popular RPGs, Atelier Totori follows the story of a new alchemist and her travels around Arland several years after the events of Atelier Rorona: The Alchemist of Arland. Fans of Rorona will surely enjoy Totori's story as well as the more in-depth synthesis and battle systems!

Trophies:
A Day in the Life
Watch the opening event.
Bad Ending
View the Bad Ending.
Normal Ending
View the Normal Ending.
True Ending
View the True Ending.
First-Rate Adventurer
Obtained all trophies.
Hidden Trophies:
???
Hidden Trophy
???
Hidden Trophy
???
Hidden Trophy
???
Hidden Trophy
???
Hidden Trophy
???
Hidden Trophy
???
Hidden Trophy
???
Hidden Trophy
???
Hidden Trophy
???
Hidden Trophy
???
Hidden Trophy
???
Hidden Trophy
???
Hidden Trophy
???
Hidden Trophy
???
Hidden Trophy
???
Hidden Trophy
???
Hidden Trophy
???
Hidden Trophy
???
Hidden Trophy
???
Hidden Trophy
???
Hidden Trophy
???
Hidden Trophy
???
Hidden Trophy
???
Hidden Trophy