Cabela's Adventure Camp Trophies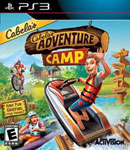 Total Trophies: 23Cabela's Adventure Camp is an arcade-style hunting game composed of a series of shooting galleries where YOU are the controller. The game includes fast paced, exciting outdoor activities that send you straight to summer camp, even in the middle of winter!

Trophies:
Platinum Trophy
Unlock all other trophies.
Exercise
Complete 10 Coin chain jumps.
Greedy!
Collect 40 coins in one level on any Kayaking, Biking or Wave Riding level.
Girlz Rulz!
Pick a female character and use her to pass all activities at least once.
Jeweler
Collect 10 diamonds across all activities.
Stunt Man
Finish any Biking level without falling from the bicycle.
Upright
Finish any Kayaking level without flipping the kayak.
Camp Star
Win the Cabela's Cup.
Speed Wheeler
Pass Biking 1 under 1 minute 10 seconds.
Shoot the Rapids
Pass Kayaking 1 under 1 minute 30 seconds.
Speed Cruiser
Pass Wave Riding 1 under 1 minute 30 seconds.
Flying Fish
Jump 15 times in Wave Riding 1 or 2.
Speleologist
Discover the hidden cave in Biking 1.
Marksman
Finish any shooting activity with a full 200 point accuracy bonus.
Memorizer
Get through all 10 stages of Hogwhacked.
Fast Reflexes
Hit a moving deer target while in Archery 2 or 4.
Ultimate Combo
Hit 25 objects in a row in any Skeet level.
Speed Freak
Speed boost continuously for an extended period of time in Biking, Kayaking, or Wave Riding.
Demolition Expert
Hit all of the dynamite in one level on skeet 1 or 4.
Golden Fever
Catch 25 yellow fish in Fishing 1.
Touchy
Pass any Wave Riding level without touching a single buoy.
Explorer
Destroy all 5 crates in Wave Riding in one run.
Speed Ace
Receive golden medals in all racing activities.