Cars: Race-O-Rama Trophies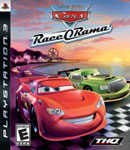 Total Trophies: 22In Cars Race-O-Rama, players will join Lightning McQueen and Chick Hicks in Radiator Springs as they prepare their academy of student racers to compete in the Race-O-Rama Exhibition. Players will encounter 12 new playable characters making their video game debut. A new and improved Lightning McQueen will come fully equipped with special racing kits, allowing him to better maneuver brand new, action-packed tracks that will take players to metro city streets, the Baja desert and sandy beaches.

Trophies:
Team Player!
Win every Academy Challenge.
Pluggin' Away!
All Sparkplugs collected from all races.
Perfectionist!
Win every Autocross event.
Drift Master!
Score 4500 points with a single drift.
Crowned Karter!
Win every Guido Kart event.
Podium Perfection!
Win every circuit race event.
Mack Track Medalist!
Score 4000 points in the Mack Track Challenge event.
Mini Master!
Win every Mini Game event.
Big Ham!
Complete every Photo Op.
Sprinter!
Win every Point to Point Race event.
The Law!
Win every Sheriff's Pursuit event.
Mooo-ving Along!
Win every Tractor Stampede event.
Luigi's BFF!
Win every Tire Find event.
A Real Go Getter!
Win every Transporter event.
Autovia Avenger!
Beat El Machismo.
Santa Carburera Champ!
Beat Candice.
The Champ!
Beat Chick Hicks for the Title.
Daring Devil!
Score 5500 points in the Mater the Greater event.
Ole'!
Score 25000 points in the Materdor event.
Big City!
Beat Stinger.
Tokyo Triumph!
Score 25000 points in the Tokyo Mater event.
Trophy Collector!
Earn every trophy.