Dance! It's Your Stage Trophies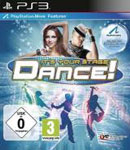 Total Trophies: 12In Dance! It's your Stage, players perform 20 dance routines on eight spectacular stages. Besides Career mode with its own success story, players can cut to the chase and attempt Quickstart mode and plunge headlong into the game.

Trophies:
Basic Dancer
Finished the first season successfully.
Professional Dancer
Finished the second season successfully.
Hard Student
Trained each song at least once.
Trendsetter
Changed outfit at least 10 times.
Rhythm King
Made a nice combo of moves in a row.
Dance Machine
Made a super combo of moves in a row.
Perfectionist
Finished any song without mistakes.
I Like You
Played a co-op match.
I'll Show You!
Played a face off match.
Friends Forever!
Both players finished a song in co-op without mistakes.
The Coach's Darling!
Finished Career Mode.
The new Star!
Got a gold medal for every song in Career Mode.