DiRT 2 Trophies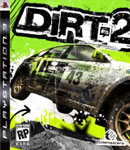 Total Trophies: 48Following on the success of the original Dirt as well as a decade of videogame development in partnership with the late Colin McRae, DiRT 2 explores various disciplines of off-road racing. Dirt 2 features a roster of contemporary off-road events, taking players to the most diverse and challenging real-world environments.

Trophies:
Perfect finish!
You've unlocked every other trophy – Congratulations!
Dedication
Win every event in the DiRT Tour.
For Colin
You've won the Colin McRae Challenge Event.
X Games Champ!
Win all the X Games events.
All-Star
Win an All-Star division event.
As Good As It Gets
Reach Level 30 in the DiRT Tour.
Best Friends Forever!
Become true friends with every superstar.
Big Bucks!
Earn those big bucks.
Notorious
Reach Online Fame Level 30.
The Full Set
Drive every vehicle in the game.
World Tour Winner
Win all the World Tour events.
You're The Best, Around!
Win a race at every track in the game (in any game mode).
Aren't You Popular!
Become true friends with 4 superstars.
Block Party
Beat Ken Block in a Throwdown.
Dialled In
Win a race using a custom vehicle setup.
Dominated!
Win a domination event, getting the maximum available points.
Famous
Reach Online Fame Level 15.
Five Of Your Best
Win 5 Pro Tour races online.
Friends For Life
Become true friends with a superstar.
Gate Crashed!
Hit every gate in a Gatecrasher event.
Getting A Reputation
Reach Level 15 in the DiRT Tour.
Gnarly!
Finish with Flair! Cross the finish line with no more than two wheels touching the ground.
Gut It Out!
Win a DiRT Tour event without winning a race.
Head Over Wheels
Roll your vehicle and still win the race.
I Ain't Afraid Of No Ghost!
Choose a ghost, download and beat it!
I like a Challenge
Win 12 Throwdowns.
In His Footsteps
Win 25 Rally races in the DiRT Tour.
Jet Setter
Compete in a race in every location.
Just Drive!
You drove 100 miles (161 kilometres) without unlocking any other trophy.
Keep It Clean!
Win a DiRT Tour race without crashing.
Mirra Image
Beat Dave Mirra in a Throwdown.
Mix It Up!
Play in every discipline online (Pro Tour or Jam Session).
Nailed an Event
Win an event.
On The Bubble
Be second to last at each elimination point but go on to win a Last Man Standing race.
Piece Of Cake
Win a Throwdown.
Pro
Win a Pro division event.
Rookie Coming Through!
Race in your first DiRT Tour race.
Rush Hour
Win a Pro Tour race online against 7 competitors.
Showboating
Bask in your success at X Games America.
Terminated!
Take terminal damage while travelling at over 140mph (225km/h).
That All You Got?
Win a Timed Throwdown.
Tourney
Take part in four tournaments.
Two Cups One Girl
Win two team events with the same female team-mate.
Whose Backyard?
Beat Travis Pastrana in a Throwdown.
With Great Honor
Achieve a 'Cautious' impact rating in Multiplayer races (Pro Tour or Jam Session).
X Games America Champ
Win X Games America.
X Games Asia Champ
Win X Games Asia.
X Games Europe Champ
Win X Games Europe.