Fit in Six Trophies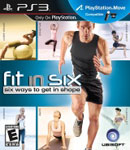 Total Trophies: 12Fit in Six separates overall fitness routines into six core elements — core body, upper body, lower body, cardio, balance and flexibility — that help you focus on getting fit and reaching your goals. The workouts have been developed by experienced fitness professionals to ensure that every move is performed precisely and effectively.

Trophies:
Fitness Junkie
Earn 500 Fitness Points.
Jack of all Trades
Complete one Workout from each Class (except DLC Classes).
Hunting for Highscore
Earn 100 Fitness Points
Music Lover
Import your own playlist.
Your Own Way
Achieve your first goal.
In Shape
Complete 30 workouts.
Move Your Body
Complete 10 Workouts with PlayStation Move motion controller.
Newcomer
Complete your first challenge.
Fit For Olympia
Complete 300 workouts.
Goalscorer
Achieve 6 goals.
Extreme Athlete
Earn 1,000 Fitness Points.
Trainer Certification
Achieve all goals in the base game once.