Man vs. Wild Trophies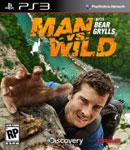 Total Trophies: 22Man vs. Wild captures the heart-pounding excitement and realistic nature of the Discovery Channel's top-rated television series. The game offers five authentic situations in a role play-style adventure, featuring seasoned survival expert Bear Grylls. The action begins when players are dropped into extreme conditions and forced to demonstrate indigenous survival techniques such as escaping quicksand in the desert, exploring dangerous jungles, traversing ravines in the mountains and navigating some of the world's most treacherous waters.

Trophies:
Reminders of the Rush
Locate all of the Gold Rush trash in the Rockies.
Pack Rat Grylls
Tag all of the junk in the Everglades.
Bob's Boats
Find all of Bob McClure's boats in the Everglades.
Patton was Here
Find all of the WWII artifacts in the Sahara.
Casted Away
Find all of the man-made items in Deserted Island.
Nice Place You Had Here
Locate all of the trash in Patagonia.
Animal Kingdom
Locate all animals of interest in the Rockies.
Horticulturist Grylls
Locate the rare plants in the Rockies.
All God's Creatures
Locate all animals of interest in the Everglades.
Osteologist Grylls
Find all of the camel bones in the Sahara.
These Belong in a Museum
Find all of the ancient artifacts in the Sahara.
Flight 815
Find all of the plane debris in Deserted Island.
Hard to Pronounce, Hard to Find
Find all five Andiperla Willinki bugs in Patagonia.
Wild, Man!
Complete the "Base Camp" campaign.
Rocky Mountain High
Complete the "Rocky Mountains" campaign.
Down in the Low Low Land
Complete the "Everglades" campaign.
As I Scan This Wasted Land
Complete the "Sahara" campaign.
Only Hope Can Keep Me Together
Complete the "Deserted Island" campaign.
A Winter's Tale
Complete the "Patagonia" campaign.
Bear Grylls
Reach the Level "Bear Grylls."
Born Survivor
Complete all episodes without passing out.
Get All Trophies
Get all the Trophies.