MX vs. ATV Alive Trophies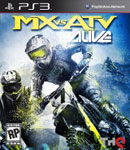 Total Trophies: 46Own the competition as you wrestle for position with tightly contested racing in the fifth iteration of the MX vs ATV franchise. Feel the realism of the revolutionary real-world physics engine which has defined the genre. MX vs ATV Alive captures the spectacle of motocross and the essence of competitive racing while providing the best riders and gear from the latest manufacturers, letting players live the sport.

Trophies:
Challenger
Earn a medal in a Free Ride Challenge.
Testing the Waters
Hydroplane over 120 feet of water.
Medal Chaser
Win a Gold medal in a Free Ride Challenge.
Rollerball
Complete 5 overtakes with bar banging in a race.
High Miles
Ride for over 100 miles in Free Ride.
Play Ride
Find the bonus vehicle in all of the Free Ride events.
World Class
Finish 50 races online.
Ouch
Wreck 50 times.
Bragging Rights
Beat a friend's record in a Free Ride Challenge.
Fast Lap
Capture a record lap time.
Top of the Line
Own a 3 star MX or ATV.
On the Edge
Save 35 wrecks using wreck avoidance.
True Skills
Change your Rider Skills.
Cover the Bases
Finish at least one race at each track.
Looking Cool
Customize your vehicle or rider.
No Help Needed
Earn a podium in an online event with assists turned off.
On the Right Track
Finish a race without going off track.
Inverted
Land a back flip.
Gone Shopping
Visit the MotoClub Depot.
Green to Checkers
Get the holeshot and win a race.
Getting Comfortable
Earn a podium 3 races in a row.
Off and Racing
Finish a race.
MotoSport Holeshot King
Capture 3 holeshots in a row.
YeeeeHawww
Pull a wheelie over 150 feet.
When it Counts
Win a race after not leading until the last lap.
Underdog
Beat a rider with a higher Rider XP than you.
Radical Dude
Win the race and do a 360 over the finish line jump.
Showtime
Pull off 100 stunts.
Getting Known
Reach Rider XP Level 2 and meet James Stewart.
Create an Image
Almost Amateur, Reach Rider XP Level 6 and make a name for yourself.
Level Headed
Reach Amateur Status at Rider XP Level 10.
Racing Forward
Almost Pro, Reach Rider XP Level 18.
It's On
Welcome to the big leagues, it's time to race James Stewart, Pro Rider XP Level 25.
Be the Star
Win a race with the James Stewart character.
Front Runner
Win 35 races online.
That Was Close
Save 100 wrecks using wreck avoidance.
Bully
Complete 50 overtakes using bar banging.
Factory Garage
Own a 3 star vehicle for each class.
Hot Streak
Win 5 races in a row.
Free Ride Pro
Get at least a silver in all the Challenges in a Free Ride event.
All Around Talent
Achieve every level 1 Race Goal.
New Hero, for Now
Defeat James Stewart in a race.
Podium Pro
Earn a podium on each track.
Greatest of All Time
Win a race at every track.
Record Chaser
Reach Rider XP Level 50, chasing records is all that is left.
Platinum Trophy
Win all Bronze, Silver and Gold Trophies.