MX vs. ATV Reflex Trophies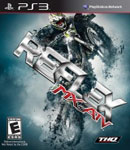 Total Trophies: 49MX vs. ATV Reflex marks the highly anticipated return of the best-selling off-road racing franchise and features the all-new Rhythm Racing 2.0 physics engine, Rider Reflex control system and real-time terrain deformation. The Rider Reflex control system provides unparalleled precision and fluidity by separating machine steering from body positioning, which allows the independently controlled rider to shift his weight, perform death-defying stunts and avoid potentially devastating wrecks.

Trophies:
Platinum
Collect all other trophies.
Waypoint Series 1
Place 3rd or higher in the Waypoint Series 1 in the MotoCareer
Waypoint Series 2
Place 3rd or higher in the Waypoint Series 2 in the MotoCareer
Waypoint Series 3
Place 3rd or higher in the Waypoint Series 3 in the MotoCareer
National Series 1
Place 3rd or higher in the National Series 1 in the MotoCareer
National Series 2
Place 3rd or higher in the National Series 2 in the MotoCareer
National Series 3
Place 3rd or higher in the National Series 3 in the MotoCareer
Supercross Series 1
Place 3rd or higher in the Supercross Series 1 in the MotoCareer
Supercross Series 2
Place 3rd or higher in the Supercross Series 2 in the MotoCareer
Supercross Series 3
Place 3rd or higher in the Supercross Series 3 in the MotoCareer
Freestyle Series 1
Place 3rd or higher in the Freestyle Series 1 in the MotoCareer
Freestyle Series 2
Place 3rd or higher in the Freestyle Series 2 in the MotoCareer
Freestyle Series 3
Place 3rd or higher in the Freestyle Series 3 in the MotoCareer
Omnicross Series 1
Place 3rd or higher in the Omnicross Series 1 in the MotoCareer
Omnicross Series 2
Place 3rd or higher in the Omnicross Series 2 in the MotoCareer
Omnicross Series 3
Place 3rd or higher in the Omnicross Series 3 in the MotoCareer
Champion Sport Track Series 1
Place 3rd or higher in the Champion Sport Track Series 1 in the MotoCareer
Champion Sport Track Series
Place 3rd or higher in the Champion Sport Track Series 2 in the MotoCareer
Champion Sport Track Series 3
Place 3rd or higher in the Champion Sport Track Series 3 in the MotoCareer
Ironman of Offroad
Win all Series in MotoCareer
Champion of Champions
Win all Face-Off Challenges in the MotoCareer
Greatest of All Time
Place 1st in all events in the MotoCareer
Gold Standard
Earn a Gold medal in any MotoCareer Free Ride Challenge
Precious Medals
Earn a Gold medal in all MotoCareer Free Ride Challenges
Step into the Arena
Complete an Online Playlist match
To the Victor…
Place 1st in an Online Playlist match with 11 human opponents
Endurance
Complete 25 Online Playlist matches
Long Live the King
Place 1st in 25 Online Playlist matches
Leveler
Finish ahead of any opponent with an Experience Level higher than yours in an Online Playlist match
You're It
Win a Tag Mini-Game in an Online Playlist match
Snake in the Grass
Win a Snake Mini-Game in an Online Playlist match
Moto Skills
Complete MotoSkills 1, 2 and 3
Master Skills
Complete MotoSkills 4, 5 and 6
Trickster
Perform any airborne Trick and land successfully
Hat-Trick!
Perform three consecutive, unique airborne Tricks in one jump
Perfection
Earn a judge's score of 10.0 in a Freestyle Event
Freestylin'
Win a Freestyle Event in the MotoCareer without repeating a trick
Coming on Strong
Lap an Opponent in a Race
Ace in the Hole
Win 10 Holeshots
Showboat
Pull of three unique tricks in a Race Event
Tuning In
Adjust a Tuning Slider and save the new setting
Keeping it Clean
Complete a Race in a Machine with all body panels still attached to your vehicle
Skeletal Remains
Complete a Race in a Machine with no body panels remaining on your vehicle
Wreck-less
Avoid a Wreck in a Race
Close Calls!
Avoid 100 Wrecks
You are Legend
Place 1st in any Race on All-Time difficulty
Long Jumper
Land a jump distance of 300 feet or greater
Wheelie King
Hold a Wheelie trick for 150 feet or longer
Stoppie Master
Hold a Stoppie trick for 75 feet or longer