NASCAR 2011: The Game Trophies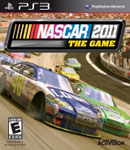 Total Trophies: 41NASCAR The Game 2011 completely redefines what fans can expect from a NASCAR racing game. Players can choose to play as themselves or as one of the sport's real-world drivers as they battle it out for the NASCAR Sprint Cup Series Championship. Each pro driver has the AI characteristics of his or her real world counterpart, setting the stage for intense rivalries played out on the track.

Trophies:
One for the Road
Rank up for the first time
Now ya Talkin'
Advance to Rank 10
NXP Challenge
Achieve over 6,666 NXP in a single race
Keep Diggin'
Drive a total of 500 miles or more
Tailgating
Perform a draft of 500 yards or more
Sprint to the Finish
Win a race in Career Mode and get the full 195 points
VIP
Complete all three objectives for a single sponsor in Career Mode
Car Stylist
Create a custom Paint Scheme
Last Man Standing
Survive a 43 car eliminator race to the end
Run the Gauntlet
Win a Gauntlet Invitational Event
The Champ is here!
Win the Championship Showdown Invitational Event
Finishing in First!
Win a race crossing the line in first gear
Give me 4
Perform your first 4-tire pit stop in any race
Hotrod
Create a custom tuning setup
"Let's Go Racin Boys"
Take part in your first online race
Up on the Wheel
Lead 5 consecutive laps in an online race
Rubbin is Racin!
Race online at every track
Pedal to the Metal
Achieve the fastest lap of the race during an online race
Styling 'N' Profiling
Win a race with a personalized Paint Scheme
Groovy
Master a track. Complete all the objectives on a Master the Track card
Decorated Driver
Advance to Rank 20
Saddle Up & Hang On
Qualify in pole position at every circuit in the game in Career Mode
Victory Lane
Win a race at every circuit in the game
Star of Tomorrow
Achieve a total of 100 fastest laps
Race Rivalry
Achieve 20 rival victories. (Online Only)
Race to the Chase
Achieve enough points in Career Mode to move into The Chase, as one of the top 12 drivers
Cup Contender
Achieve a top 10 finish in every Career Mode race
Any Place, Any Time
Compete in every Invitational Event
MVP
Receive full sponsorship status for your driver in Career Mode
Win on Sunday, Sell on Monday
Win a race in all brands of car
Pit Perfection
Perform a 4-tire pit stop, and go on to win the race. (Online Only)
Ride in Style
Collect 88 Paint Schemes by racing in Invitational Events and reaching rank 29
Surfin' USA
Master every track in the game
Name to Remember
Unlock every Gold Legends Coin in the game
Kingly
Defeat Richard Petty's race win record of 200 wins.
NASCAR Legend
Advance to Rank 30
Series Champion
Finish top of Career Mode standings and become the Sprint Cup series champion
Boy Scout
Unlock every NASCAR Pin in the game
Platinum
Unlock every trophy in the game.
Hidden Trophies:
???
Hidden Trophy
???
Hidden Trophy