NCAA Football 13 Trophies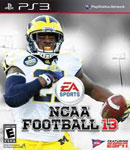 Total Trophies: 37With a new passing system that changes the way quarterbacks and receivers play and respond, combined with a new read and react defensive AI system, NCAA Football 13 delivers greater realism on the virtual gridiron.

Trophies:
Heisman Performance
Congratulations for unlocking all trophies in NCAA® Football 13!
Pick Up 20
Break off a 20 yard run (excludes Co-Op).
Go for Broke
Complete a pass for 50 or more yards (excludes Co-Op).
Up the Gut for the Score
Score a touchdown handing off to the fullback on a triple option play (excludes Co-Op).
Keep 'em Honest
Gain 200 rushing yards and 200 passing yards in the same game (excludes Co-Op and Road to Glory).
Unstoppable
Win a game by 35+ points on Heisman difficulty (excludes Co-Op).
Best Class Ever
Have the #1 ranked recruiting class in a season in single team Dynasty Mode.
High School Champ
Play and win the High School Championship Game in any state.
Future Star
Become a 5-star prospect in Road to Glory Mode.
Put Your Helmet On
Become a starter in Road to Glory Mode.
And the Winner Is…
Win the Heisman Memorial Trophy® in single team Dynasty Mode, Road to Glory Mode, or Heisman Challenge Mode.
Take What's Mine
Win a position battle in Road To Glory Mode.
Earn My Trust
Reach the max coach trust in Road to Glory Mode.
Hometown Hero
Lead your alma mater to a National Championship as a head coach in Dynasty (Coach Contracts on).
Let's Do it Again
As a head coach in Dynasty, sign an extension to stay at the same school (Coach Contracts on).
Dream Job
Become the head coach of your alma mater in Dynasty (Coach Contracts on).
Dual Threat Coach
Win the BCS Championship & have the #1 recruiting class in a single season as head coach in Dynasty.
Living Legend
Reach a coach prestige of A+ with a created coach in Dynasty (Coach Contracts on).
My Two Cents
In Online Dynasty, write a comment on a Dynasty Wire story.
Tire Fire Offense
Win a game without scoring an offensive touchdown and gaining less than 200 yards (excludes Co-Op).
Highlight of the Year
Upload a photo or video to EASports.com.
Look at the Game Tape!
Unlock 5 attributes on a single scouting session.
I am Barry Sanders
Win the Heisman with Barry Sanders.
I am Eddie George
Win the Heisman with Eddie George.
I am Marcus Allen
Win the Heisman with Marcus Allen.
I am Desmond Howard
Win the Heisman with Desmond Howard.
I am RG III
Win the Heisman with Robert Griffin III.
I am Andre Ware
Win the Heisman with Andre Ware.
I am Doug Flutie
Win the Heisman with Doug Flutie.
I am Herschel Walker
Win the Heisman with Herschel Walker.
I am Charlie Ward
Win the Heisman with Charlie Ward.
I am Carson Palmer
Win the Heisman with Carson Palmer.
Read and React
Intercept a pass while using Reaction Time.
Welcome to the Club
Win the National Championship in year 1 of Dynasty with either UMASS, UTSA, or Texas State.
Don't Run Home to Mamma
In Dynasty, convince a homesick player to stay at your school instead of transferring.
No Regrets
Convince a player to stay for their senior year using only one promise to get their degree.
Go Ahead, Ask me Anything
Earn a minimum of 75 recruiting points on a Prospect Choice topic.