Phineas and Ferb: Across the 2nd Dimension Trophies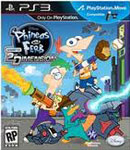 Total Trophies: 40Phineas and Ferb: Across the Second Dimension is a fun-filled platforming and combat game where players can be one of eight characters including Phineas, Ferb or Master P as they use gadgets and combat maneuvers to defeat the evil Dr. D and his minions. In addition, the PS3 version features PlayStation Move's motion controller compatible gameplay, giving the game a whole new level of fun and dimension.

Trophies:
Modtaclur
Collect all the mod chips in the game.
I'm A-Levelin' Mah Gadgets!
Get each and every gadget up to maximum level.
Weekend at the arcade
Earn 2000 tickets in the course of the game.
First Gadget
Collect all the parts and construct your first gadget.
Version 2.0
Install half of the upgrade chips in the game.
Chiptastic
Collect every upgrade,effect,and mod chip in the game.
Ticket Stockpiller
Have 500 tickets in your posession at once.
The full cast
Unlock every single playable character (Baljeet, Isabella, Pinky, Peter).
Figure Madman
Collect Every Figure in the game.
Let's Play Dress-Up
Unlock all 17 additional skins
Lifetime Accomplishment Award
Collect every trophy in the game.
Hidden Trophies:
???
Hidden Trophy
???
Hidden Trophy
???
Hidden Trophy
???
Hidden Trophy
???
Hidden Trophy
???
Hidden Trophy
???
Hidden Trophy
???
Hidden Trophy
???
Hidden Trophy
???
Hidden Trophy
???
Hidden Trophy
???
Hidden Trophy
???
Hidden Trophy
???
Hidden Trophy
???
Hidden Trophy
???
Hidden Trophy
???
Hidden Trophy
???
Hidden Trophy
???
Hidden Trophy
???
Hidden Trophy
???
Hidden Trophy
???
Hidden Trophy
???
Hidden Trophy
???
Hidden Trophy
???
Hidden Trophy
???
Hidden Trophy
???
Hidden Trophy
???
Hidden Trophy
???
Hidden Trophy