Puss in Boots Trophies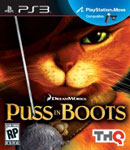 Total Trophies: 40This game follows Puss In Boots, the strange yet dashing kitty hero that movie fans fell for in the Shrek films.

Trophies:
The Cat's Whiskers
All other trophies have been collected
Always Land on my Feet
Complete a best of three team challenge
Adios, Amigo
Boot an enemy into a trap
Ole!
Block an enemy attack
Touche!
Perform a deflect
Scratch That
Perform a Claw Frenzy
Pet Peeved
Defeat 3 enemies with one guitar attack
Virtuoso
Play every guitar tune
These Eyes Tell No Lies
Discover every type of trap
Holy Frijoles
Defeat 20 enemies using the guitar
Looking Sharp
Defeat 10 enemies using Claw Frenzy
Over Easy
Collect all nine golden egg pieces
Pray For Mercy
Collect all nine wanted posters
Light on my Feet
Perform a perfect sneak
Copycat
Perform a perfect shape-match
Well Balanced
Perform a perfect balance
Feisty Feline
Get a high score in Market Mayhem
Purrfecto
Get a high score in Barrel Barrage
Viva Gato!
Get a high score in Shape It Up!
Real Cats Wear Boots
Get a high score in Bandit Boot
Such Moves, Such Handsomeness
Get a perfect time in the Beanstalk
Don't Desert Me
Get a perfect time in the Canyon
Care to Dance-Fight?
Perform a perfect dance in the Cantina
Purrrrrrfect Score
Serenade three different senoritas with a perfect score
Swashbuckler
Bronze medal on every level
Hero
Silver medal on every level
Legendary
Gold medal on every level
Hidden Trophies:
I Thirst for Leche
Complete The Thieves' Bar
Me-ow!
Serenade a senorita
En Garde
Defeat the cat lover
Check me Out
Complete The Hotel
Born with Cat-like Moves
Complete The Chase
Nice moves, Senor
Complete The Cantina
Stage Complete
Complete The Stagecoach Robbery
I Flirt with Danger
Rock a pig back to sleep. Only in Adventure Mode.
Wild Goose Chased
Complete The Giant's Castle
Conquistador of the clouds
Complete The Beanstalk
This Cat is En Fuego
Complete The Mine
Danger is my Game
Complete The Great Terror
All I need are the boots, baby!
Complete the game