Quantum Theory Trophies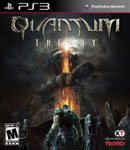 Total Trophies: 51Many years have passed since the world war inflicted catastrophic damage on the human race, leaving only a few survivors. In their new community Cocoon, life has been threatened by a black material called Erosion, creating a post-apocalyptic environment. Surviving humans recruit a militia to conquer the Erosion and set out to take down the evil, Living Tower.

Trophies:
Hunter
Kill 500 enemies.
Headache
Kill 200 enemies with headshots.
Major League
Land 200 combo throws.
Cut a Rug
Land 100 full combo attacks. (3 consecutive hits)
Ninja Style
Filena killed 50 enemies.
Privacy Issues
Destroy 1 Watcher. (1/50)
Novice
Obtain the rank of Novice.
Soldier
Obtain the rank of Soldier.
Mercenary
Obtain the rank of Mercenary.
Commando
Obtain the rank of Commando.
Elite
Obtain the rank of Elite.
Slayer
Obtain the rank of Slayer.
Berserker
Obtain the rank of Berserker.
Lone Gunman
Kill all members of the opposing team alone. (8-player Team Battle)
All Mine
Kill all other players in an 8-player Deathmatch.
On a Roll
Kill 10 opponents in a row during one match.
Killing Spree
Kill 20 opponents in one match.
Triage
Revive 10 teammates in one match.
Stop Looking At Me!
Destroy 20 Watchers. (20/50)
Storm
Obtain the rank of Storm.
Predator
Kill 1000 enemies.
Leave Me Alone!
Destroy 50 Watchers. (50/50)
Immortal
Obtain the rank of Immortal.
Destruction Incarnate
Obtain all trophies.
???
Hidden Trophy
???
Hidden Trophy
???
Hidden Trophy
???
Hidden Trophy
???
Hidden Trophy
???
Hidden Trophy
???
Hidden Trophy
???
Hidden Trophy
???
Hidden Trophy
???
Hidden Trophy
???
Hidden Trophy
???
Hidden Trophy
???
Hidden Trophy
???
Hidden Trophy
???
Hidden Trophy
???
Hidden Trophy
???
Hidden Trophy
???
Hidden Trophy
???
Hidden Trophy
???
Hidden Trophy
???
Hidden Trophy
???
Hidden Trophy
???
Hidden Trophy
???
Hidden Trophy
???
Hidden Trophy
???
Hidden Trophy
???
Hidden Trophy